Education and Training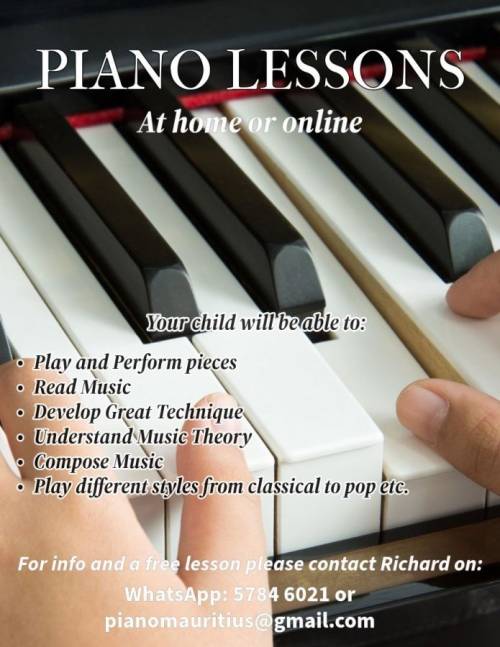 Please contact me for more info and a free lesson.
Welcome to the dynamic world of learning and personal growth on our comprehensive platform dedicated to "Courses and Trainings" in Mauritius. Whether you are a tourist eager to imbibe local knowledge, an expat aiming to hone your skills, or a resident looking to broaden your horizons, our advertisement board offers an abundance of opportunities.
Dive into "Professional development courses in Mauritius" to elevate your career to new heights. Our listings include workshops, seminars, and certifications designed to keep you ahead in the competitive job market. If you are a provider of such enriching experiences, this is your stage to shine and reach an audience eager for advancement.
For tech enthusiasts and professionals, our "Computer training centers in Mauritius" section is a goldmine. From basic computer literacy to advanced programming, there's a course for every level. Providers of these valuable skills can freely post their advertisements, reaching out to a tech-hungry audience.
Language is the key to cultural immersion, and our "Language courses Mauritius" listings provide just that. Tourists, expats, and locals can discover courses ranging from Creole to French, and beyond. Language schools and tutors, this is your chance to connect with language learners from all walks of life.
Food lovers and aspiring chefs will delight in our "Cooking classes in Mauritius," where the rich culinary heritage of the island comes alive. Advertise your cooking workshops or enroll in one to master the art of Mauritian cuisine.
Academic aspirations are addressed with "Mauritius university degree programs," offering a comprehensive guide to undergraduate and postgraduate studies. Universities and academic institutions can leverage our platform to attract both local and international students.
Embrace wellness and spiritual growth with "Yoga teacher training Mauritius." Whether you wish to become a yoga instructor or deepen your practice, our listings provide numerous options. Yoga schools and independent instructors, your next cohort of students awaits.
Lastly, for the digitally inclined, "Online educational courses Mauritius" offers a range of e-learning options. It's an ideal space for providers to showcase courses that transcend geographical boundaries, catering to a global audience eager for knowledge.
Our platform is not just an advertisement board; it's a bridge connecting learners with educators, hobbyists with masters, and seekers with knowledge. With multilingual options, search engine indexing, and a community-based review system, your advertisements are not mere listings; they are beacons of opportunity.
Unlock the door to learning and teaching in Mauritius. Whether you offer a service or seek one, our "Courses and Trainings" section is your gateway to a world of knowledge and growth. Post your ad today, or embark on your next learning journey—it's free, it's unlimited, and it connects you with a thriving community of knowledge-seekers and knowledge-givers.