Delivery from cafes and restaurants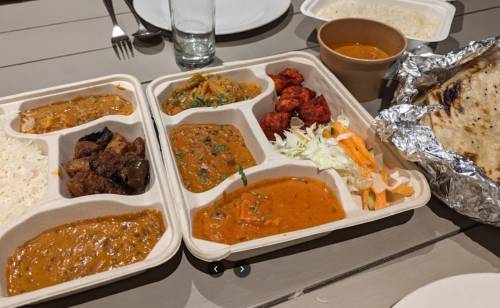 Thali, dosa, kerala porotia, naan, seafood, chicken, lamb, soup, biriyani,...
Embark on a culinary journey right from the comfort of your home with Mauritius' vibrant food delivery scene! Whether you're a tourist longing for a taste of local flavors, an expat craving a slice of home, or a local exploring convenient dining options, our "Delivery from cafes and restaurants" section caters to your every gastronomic need. Dive into a world where the best food delivery services in Mauritius are just a click away!
Our platform is a melting pot of Mauritius restaurants with home delivery, making it easy to savor diverse cuisines without stepping outside. Craving something nearby? The "Takeaway food near me in Mauritius" feature is your local guide to gastronomic delights in your vicinity. Moreover, our user-friendly interface simplifies online food ordering in Mauritius, ensuring that a hot, delicious meal is always within reach.
Fast food delivery in Mauritius meets the demands of those urgent hunger pangs, offering quick, satisfying meals at any time of the day. Meanwhile, traditional Mauritian food delivery is a treasure trove for gourmands eager to explore the island's rich culinary heritage from their dining tables.
Night owls and busy bees, rejoice! Our 24/7 food delivery options in Mauritius ensure that you're never left hungry, no matter the hour. With services indexed by search engines and the possibility to publish ads in multiple languages, our platform extends its reach far and wide, attracting a diverse crowd of food enthusiasts.
Posting an ad with us is free, with no time limits, and our rating and review system adds a layer of trust and quality assurance. Unlike social networks, our classified ads target a specific audience, offering a more effective platform for both consumers and service providers to connect.
So, whether you're a local restaurant wanting to expand your customer base, a tourist seeking the comforts of a meal delivered to your doorstep, or an expat looking for a taste of home, our "Delivery from cafes and restaurants" section is your gateway to the rich and diverse food landscape of Mauritius. Bon appétit!